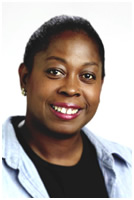 TOBA M. GARRETT

Toba Garrett is one of the country's foremost artists and educators in the field of cake decorating and design. For 30 years, she has studied and mastered this intricate art. She has won more than a dozen international gold and silver medals as well as countless diplomas and felicitations, including the trophy of Les Commandarie des Cordons Bleus de France, the gold medal from Societè des Chefs, Cuisiniers et Pattissiers de la Province de Quebec and the 14-karat-gold medal-of-honor from Le Societè Culinaire Philanthropique de New York – grand prize for pastry.

She is Master Chef-Instructor, Cake Decorating and Design at the Institute of Culinary Education in New York City. She started this department more than 14 years ago, and now her classes are sold out months in advanced. Her classes are the most comprehensive and most diverse in the entire country.

She has been featured on "The Today Show", "Emeril Live", "Home Matters", "B-Smith With Style", "Our Home", and dozens of radio programs. Her work has appeared in almost every major magazine in the country including, Brides, In-Style, Modern Bride, Gourmet, Woman's Day, Chocolatier, Pastry Art and Design, Showcase, Sugarcraft, American Cake Decorating and many more.

She is the author of Professional Cake Decorating, the first professional cake decorating text book designed at teaching all aspect of cake art, The Well-Decorated Cake and Creative Cookies – Delicious Decorating for any Occasion.
---
* Brand New *

240-hour Professional Cake Decorating Program developed and taught by Toba Garrett with Colette Peters and Elisa Strauss as guest cake artists.

More info: http://www.iceculinary.com/professional/Cake.shtml
---
Some of Toba's recent press:

Toba Garrett - One of the Best Cake Artists in North America
Toba Garrett and Cake Artistry with an Attitude
Master Chef Toba Garrett The Cake Artist
New York's Master Chef Toba Garrett Comes to AHA Philippines
Upscale Cupcakes Class with Chef Toba Garrett
Beauty in Pastry